... Home of the Original Olive Martini Bar, established 2005
LAGER in Steins
​
Price: $10
Complete the fun with TAVERN TRAYS!
Serving is always easier with one of the Olive Bar's traditional Tavern Trays.
We offer a plentiful supply of canned beers in many popular labels as well as craft brews.

​​Our cans are solid acrylics so they are heavy enough to stay put when on display ... but light enough to be held by your dolls. They have flat tops with retro styled flip tabs. (It's a bit anachronistic with modern labels, but our customers don't seem to mind!)

WHITE HOUSE Label BEER CAN SET
​
Price: $5.
Our traditional beers are available in two styles of glassware: mugs and goblets. Each rich amber brew is topped with a generous head of bubbly foam, with a fresh-from-the-tap look.
LAGER in Goblets
​
Price: $10
NOTE: PALE version is in very limited quantity
Take it with you ... Now available by the CAN
Yes ... A new man is in the White House and these Beers are no longer available there; but we'll offer the Obama beers HERE as long as our supplies last.
​
The set of three includes: Honey Ale, Honey Blond and Honey Porter.
NOTE: The above photo shows a small sampling of labels we've created in the past. If you have a favorite that is not shown, please feel free to write in your choice of name/brand in the "preferred beer label" space on the right. (If you add to cart without making a preference, we will fill your order with randomly chosen labels.)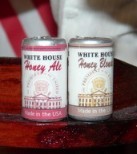 LAST CHANCE … White House Series
Our beers have been very popular throughout the year, likewise you can be sure to find a good
selection of our traditional styles at any time.

We also offer seasonal SPECIALS, brewed to match popular trends and demands. Be sure to check frequently to see what's in stock!